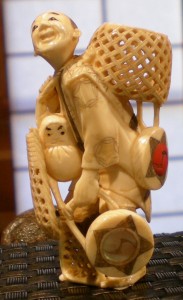 I've been writing about jewelry and gemstones most of my life. This is usually where stuff that doesn't fit elsewhere. But right now I'm mostly using the Journal as a place to blog my book, Good Bones: the Elements and Principles of Design for Jewelry Makers. (If you're interested, you'll find previously published things here under, what else? Previously published.) (To learn more about my other writing, go to sharonelainethompson.com.)
Please feel free to comment and add your thoughts. If you think I've got something wrong, please tell me. If you think someone else has it wrong, please say so. All I ask is that you respect the fact that we all have different opinions of what constitutes good, bad, interesting and uninteresting work. Be aware that I will review comments before they post to the site to remove spam and offensive language. Disagreement is fine, expected, encouraged. Disparaging someone else (or their work) is not. If you comment about the work, be specific about what you think works (or doesn't), what's disturbing or appealing, what might be done better.  We can all learn by seeing the work through your eyes.
I look forward to hearing from you.